D1 Exhibition
Sunday 18th June 2006

We got there about 9am, and from the looks of the weather it was going to be a good day, sunny, and slightly overcast, so not too hot and not too cold.

We had tickets to Brooklands suites and so made our way over to Brooklands, passing the trade mall on our way there.

Saw a few familiar faces, it's good seeing people you regularly only see on the show and motorsport circuit.

I missed the warm ups, but apparently there was some amazing triple drifting going on with Phil Morrison, Brett Castle and Darren McNamara.

Qualifying started quite well, they were looking for 16 drivers to take through to the first round, and although there were only 18 cars we could see in the first line up, it still meant we had to lose two cars!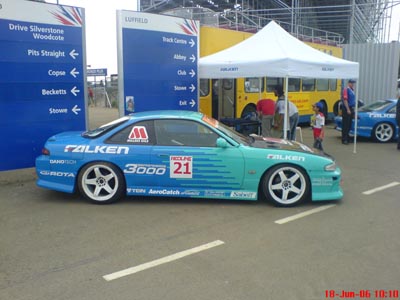 There was some amazing drifting going on and the Jap drivers had some amazing angles as they were entering the first corner, some, like Kazama and Nomura, were entering the corner with almost 90 degree drift angles and using sheer speed to meet the clipping point.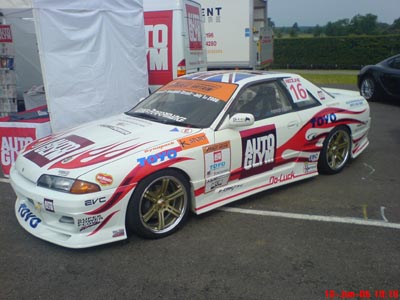 The first race was between Ken Nomura and Hibino, with Ken taking a well deserved win, Hiraoka was then pitted against Tezuka, with Tezuka taking the win.

Minowa vs Brett Castle was the first Japan vs. Europe run, and Brett in his S14 held up very well against the Jap, although unfortunately, it wasn't enough, meaning our first European was out in the first round. Minowa well deserved the win though, wowing the crowds with some amazing angle and technical drifting.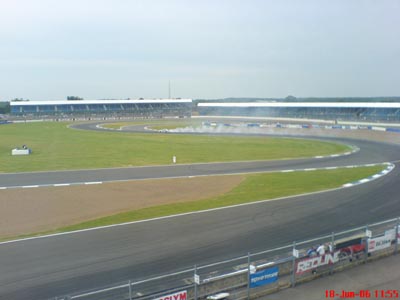 Second European run was Kawabata against Maciej Polody from Poland. Maciej didn't really stand a chance against a very on form Kawabata, and we had our second European knockout in the first round.

Next to run was James Hudson in his HCR32, the only one from the Europeans, with an R32, and was also beaten. He was beaten by Kazama in the Nissan 200sx S15. An amazing motor, and Kazama was running some really high angle drifts. James ran straight into the gravel on the practice run, and I felt it was either because Kazama was carrying so much speed into the first corner or because Kazama was scrubbing off so much speed just before the angle that James had to over correct.
Anyway, it seemed as though James had lost his confidence after his first off, and didn't really get back into his previous form.

Next round was Okamura against the UK's finest (in my opinion) Phil Morrison in his driftworks S14a. It was an exciting round, but Phil was out-drifted and also went out.

So far we didn't have a single European through to the finals, and it wasn't looking good.

Next up was Darren Macnamara, in his SR20'd Toyota Corolla AE86. He was up against Matsuda, who also had an AE86, except Matsuda was still running the 1.6 NA corolla engine.
I felt that although Darren did really well, he was losing so much speed through smoking the tyres that he didn't really fare very well on his first run.
On his second run, while Matsuda was chasing, Matsuda carried so much speed through the corners, that keeping up with Darren looked very easy.

Another European out. It all rested on Paul Vasblom, from Holland, in his BMW E36. It was hella noisy as he blatted down the straight on to his first run chasing Ueno, but alas, it wasn't good enough and only got a 6-4. On his second run Ueno was chasing, but because the dutchman carried no speed into the first and second corners, it caused Ueno to spin out in his massively more powerful JZZ30 Toyota Soarer. This gave Paul a 7-3. AND through to the second round!!!

Paul was beaten in the semi finals by Matsuda, it still meant that the Europeans were getting better and better.

Nomuken, Kawabata, Kazama and Matsuda were lined up for some tense semi finals, with Kazama and Kawabata going through to the final.

Kazama in the Nissan 200sx S15 finally took the win with an end to an amazing day.

I will definitely be attending round 4 (Round 3 is in Scotland)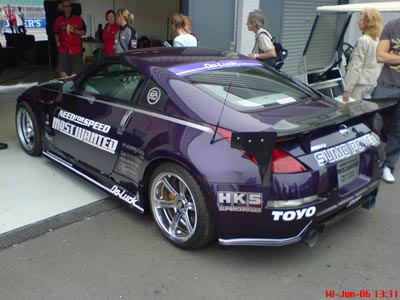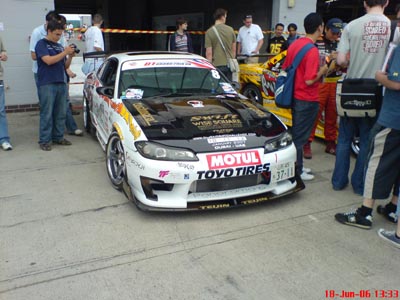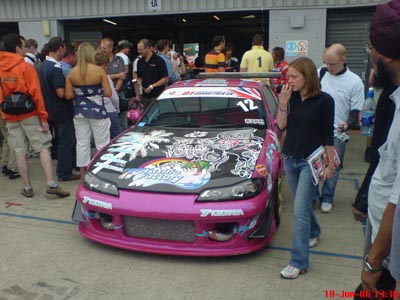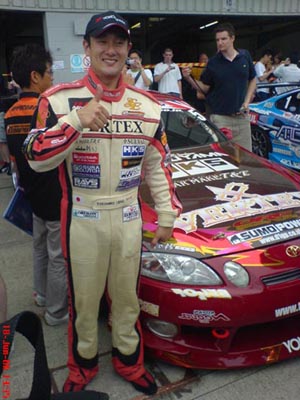 Thanks from the Midnight-Racing Team
LiGhTnInG for featuring this event.
Dyce9984 for photo's.