THE NO-COPS CRUISE @ THE WHEELS RACEWAY BIRMINGHAM
After meeting at lakeside Thurrock services at 5.45pm one of the many convoy points across the country me and Ben met up with other people who were up for the no-cops cruise.
At 6.00pm we was ready to leave but had one small problem…we had no convoy leader. This was a major problem as the only people who knew the exact location of the cruise were the convoy leaders. The only information we had was M6 – Junction 6 and that was it.
Lucky one of the others who were in our convoy was in contact with one of the people who were organising the cruise. He explained that the convoy leader had not turned up and it was 6.30pm. He then received a text message on his phone; we now had the full location details we were off.
When we finally got into Birmingham and the directions were not making any sense. As we were turning round in the road on of the filth stopped us and we thought "here we go" but surprisingly enough he knew what we were there for and gave us the directions to where we were going. He gained my respect not everyday the filth helps you out; they must be a different breed up there.
At 8.30pm and after 2 hours of solid driving we finally arrive at the wheels raceway.





When we arrived we found the track full with cars so we parked up and decided to take a walk. After we had walked round the track taking in what the night had to offer we found ourselves in the centre and that was then we saw some of our first action.






We saw our first donut of the night by a front wheeled car as he was using trays under the back wheel and putting the hand break on it looked impressive and spun well. When he open the boot he made an even greater impression with the I.C.E install it was very loud trust me.





He then decided to do the famous burnout and with a female passenger he smoked them both out but this idiot with the hat on had caught something he did not expect.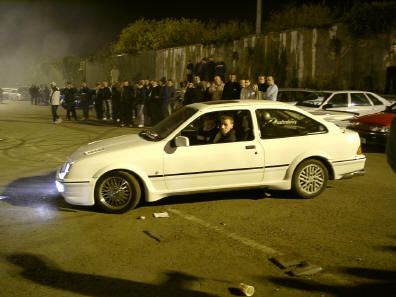 This Cosworth decided to try his luck and as you can see from the first picture there was lots of rubbish on the track including the trays from earlier. As he gave it large with the donut debris was being flung everywhere by the rear wheels of this monster. I managed to get a stone in the ankle but remember that idiot with the hat....yep he copped it he came of worse than me as he got a wheel nut right in the side of his head. Lucky he was wearing that stupid hat.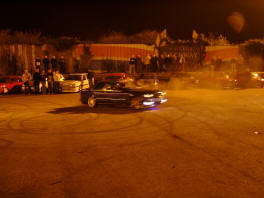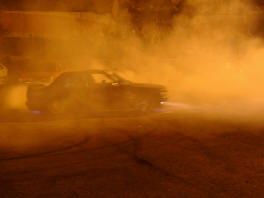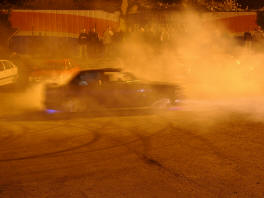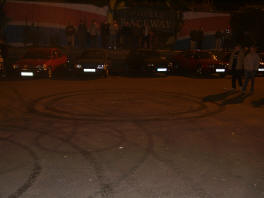 This BMW gave a nice display and some smoke but its not everyday that you see a perfect set of round tyre marks left after a donut.
Me, Ben, Stephanie & Jodie decided to grab a burger and returned to find cars parading around the track with lots on show including some females showing all their bits off. Due to Me & Ben not being at the ready we did not get any snaps but Iam lead to believe that Steve has them on video. As we looked on as cars passed us Me & Steph was standing talking to Steve as Ben took Jo for a drive.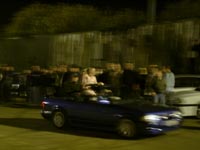 Cars started to leave the track and there was only a few cars left and two BMW's decided to have a 1 on 1 round the track these guys did not hang about the cars we sideways round the corners but the marshals soon wanted to put an end to it so they sent two banged up cars?? well I don't even know what they were out on the track to stop them but they carried on until one of them pulled out in front of one of the BMW's, and it looked like there was going to be a punch up but it all died down.
I wanted some fun so decided to do some handbrake turns and Ben joined in by racing round the track and we decided to race each other you are laughing at this point a Clio & pulsar racing each other well we did and guess what yes he did beat me not surprising really. We left the track and on the way out there was some gravel Ben want some more fun 4wd pulsar + Gravel = Playtime. Ben threw dust into the air as he done a donut I enjoyed watching from a distance.
We had a long drive ahead of us and we all know that you don't go to a cruise and have no problems and this was no exception. As we were coming down the M1 Bens clutch decided to go on him and we were stranded at the Newport Pagnell services, We could not believe his luck first the MR2 now this. I waited around until I knew a recovery vehicle was coming and Ben sent me home. We arrived back at Gillingham at 5.15am after dropping my sister at Maidstone. What a night.
I Spoke to Ben the following day and he did not get back home until 8.30am and £500 lighter in the pocket.
On behalf of Midnight-Racing I would like to thank the people who made the NO-Cops cruise possible as it was a well organised event and a good night out. Good Job.