Modified Nationals 2006
Friday
By Viper
Woke up early to clean the car as all good modders do, sun was shining and it was shaping up to be a great weekend.
After cleaning up the car and meeting the M-R support van we was all packed up and ready to go.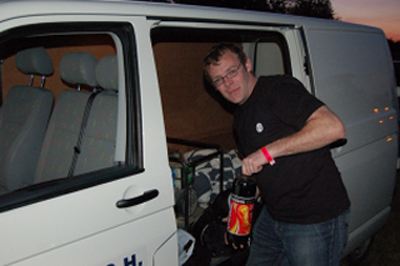 Dan's MR2 gave us a bit of grief by leaking clutch fluid all over my street, so we left it there and set off. Brilliant sunshine all the way up the M1, and the usual photos of the cars and general fun on the motorway (all at 70mph of course).
We met up at the service which was a quick stop ..... said hello got some food and we were off again to Rockingham Raceway.
We all stopped up near the blue gate to meet the Northern members who had gone to the football club as they had arrived early.
All present and correct, we entered the arena accept we had to drive for 10 minutes out of the place to go into some field miles away. After some confusion we set up base camp and started drinking.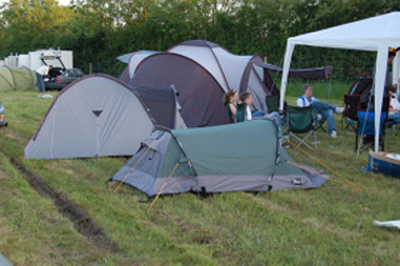 The gazebo took a bit to get up but once up it was party party time.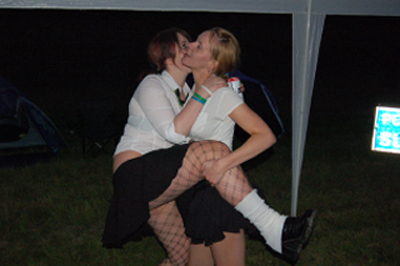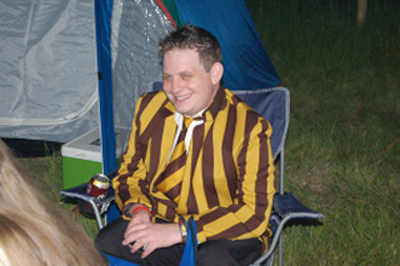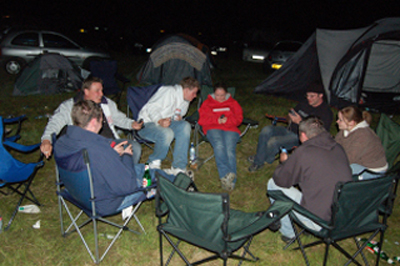 The night held .... a mini friendly bundle, drinking shots, school uniforms, crazy dancing, posing on cars and the normal M-R welcome to anyone passing (come have some beer and join us.)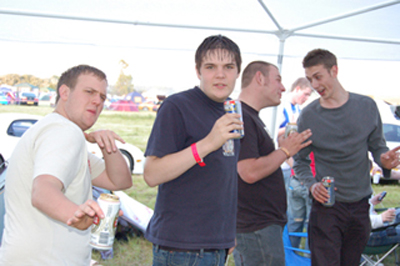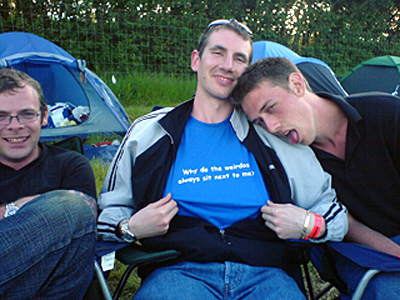 With special guest appearances from the most wanted man in the world.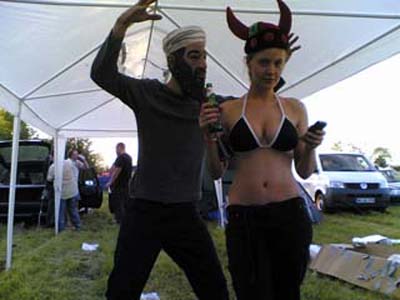 Great night was had by all but will everyone get up the morning to wash their cars and get on stand? Only time will tell....
Saturday
By Laura.
After a very heavy night drinking by all, hung over and hungry the boys got up and made themselves some bacon sarnies. Once fed and watered they made their way to the stand and left the girls to dismantle the marquee (typical blokes). Not impressed with the campsite been 3/4 of a mile from the show we got Johnboy to give us all a lift in the Midnight-Racing support Vehicle, after getting it out of a big hole it was stuck in.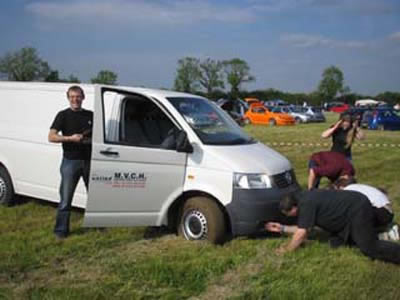 Once we queued for a good hour to get into the raceway, there was a big team effort to put the marquee up, and with everyone helping it was up in no time at all, proudly displaying the new banner. Viper swiftly organised the cars into their positions around the stand, and had everything sorted pretty quickly. With Lil Ben on the decks and some fantastic cars on the stand we all agreed it's been our best stand so far. Devine and Shedevil2k4 got involved by advertising the site with brilliant flyers designed by Digitalghost.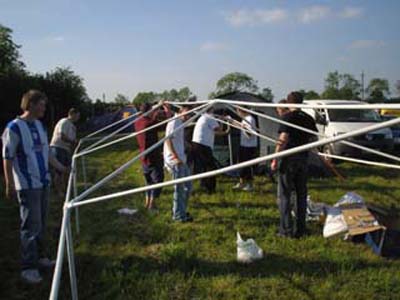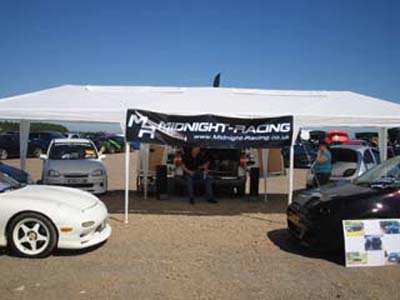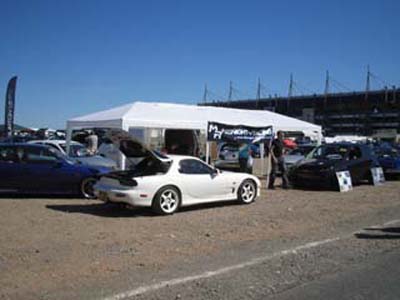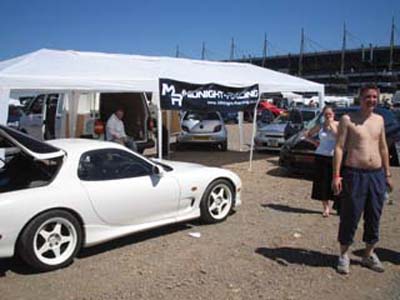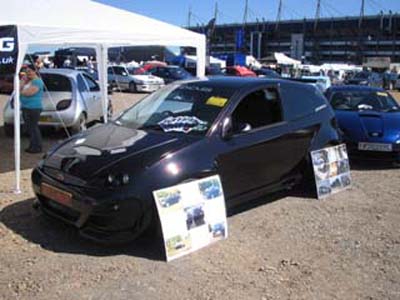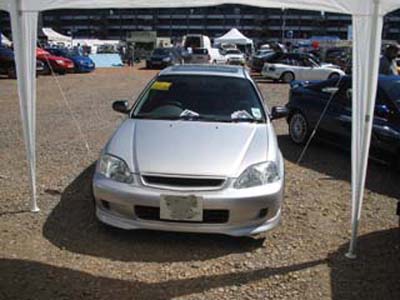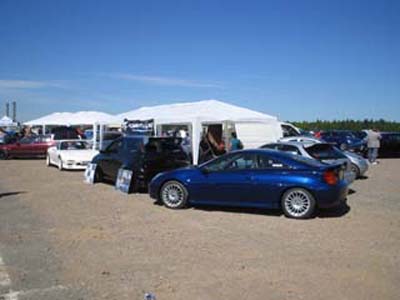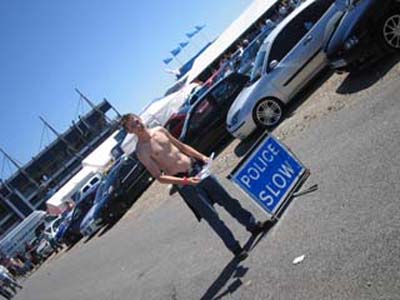 The turnout was impressive, everyone seemed to be there, from Fuel to local cruise clubs. Inside the arena, they had the ultimate show car competition; this is where you could enter your car for Best in Show, along with other smaller 'Best' competitions. The winner of best in show was a pink Street KA.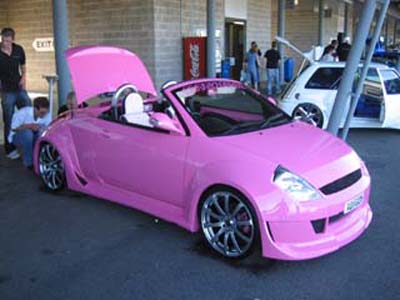 There was some action on the track too, with drifting exhibitions from Phil Morrison of Driftworks and MittoMatto who's recently, had a FastCar magazine cover, and there were quite a few cars running the 1/8th mile. The weather was absolutely amazing. Not a cloud in the sky, which meant that before long, the one's who hadn't been using suntan lotion were all pretty pink!!
As the day grew into night some of the members went down to the dance tent, apparently it was a wicked night but they were too pissed to say much else! The rest of us stayed in the campsite getting gradually drunk. We welcomed some new campers who brightened up the evening in more ways than one.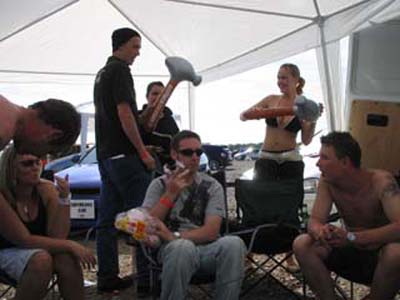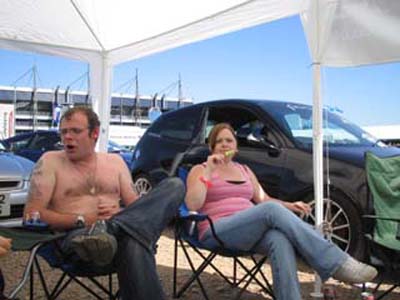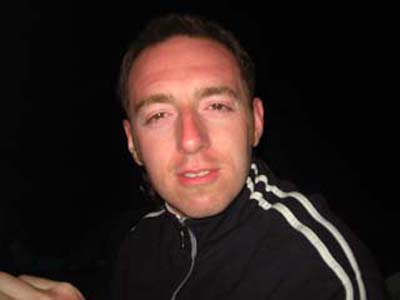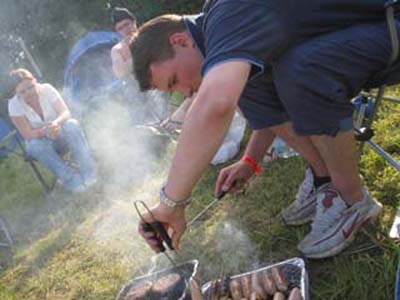 Sunday
By Lil Ben
After a scorching hot Saturday and a loud, late night partying, things were rather subdued on the Sunday. There was plenty of lobster looking people walking around, many members of M-R included.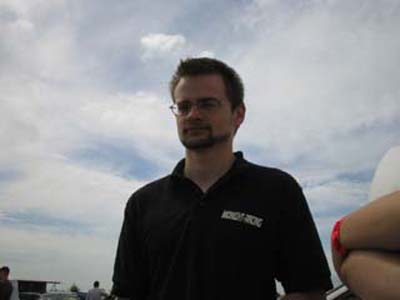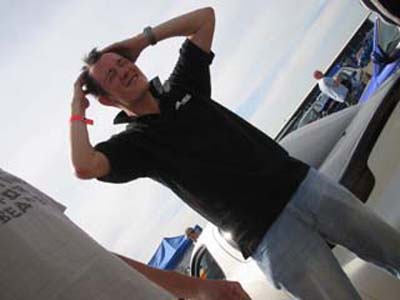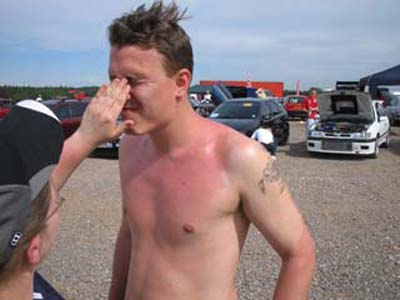 Luckily for us men, this meant all the models were walking around with even less on than normal - if that was possible. There seemed to be hordes of them around, many more than at normal shows which was nice ;)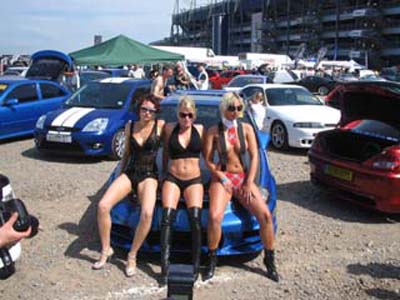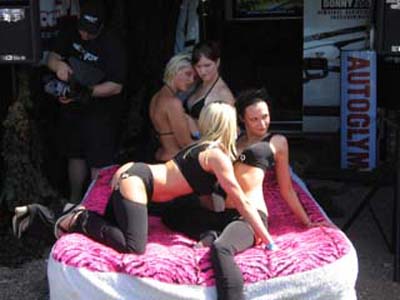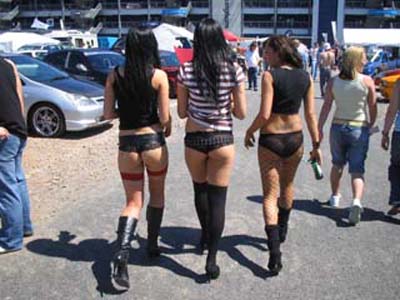 The club stands seemed a bit emptier than the previous day and i can only assume people had decided it was too hot to be out again or had crawled home to try and get over the Saturday night hangover.
The remaining people were still having fun in the hot weather with more than one water fight going on. The Dj's were still giving it large and competed for attention on various stands.
Despite there being full access to the track, not many cars were out on laps. I think I only saw four or five cars round all day (although i admit i did sneak off early due to lack of sleep and the heat had got to me).
There was a small championship for the 0-60 times which was won by a Pulsar GTiR - getting round in 3 seconds.
All in all it was a fantastic show, and was good to see some new faces representing Midnight-Racing.
Cars on stand

Digitalghost - Toyota Celica
Steve2k - Honda Civic
Lil Ben - Volvo 740
Viper - Mazda RX-7
Johnboy - M-R Support Vehicle
SMOT - Ford Focus
Stu80 - Honda Civic
Pat - Mazda RX-7


Hoggie - Integra Type R
Mike - Toyota Celica
Paul - Fiesta RS1800
Burncross_Owl - Ford KA
Chris - Vauxhall Corsa
Owen - VW Golf
LiGhTnInG - VW Golf
Sean_EK4 - EK Civic


All who attended

Digitalghost

Viper

Johnboy

SMOT

Steve2k

Stu80

Pat

Sean_EK4

Lil ben

LiGhTnInG

Owen

Chris

Hoggie

Mike

Paul

Burncross_owl

Scotty

Laura.

Smileystace

Blaire

Divine

Shedevil2k4

Nat

Tig_Bits

SexySazzle

xXxBarbieGirlxXx

DaveS

Liberal123

Lolli-pop
Thanks from the Midnight-Racing Team
Firstly to LiGhTnInG for organising the event and convoy excellent job done.
Viper stand layout.
Digitalghost for creating us a new flyer design.
To our three feature writers who have all done a great job Laura., Lil_Ben and Viper.
Photo boy's ... Steve2k and Digitalghost great pictures as always.
Video Laura. and LiGhTnInG.
Handing out flyers Divine and Shedevil2k4.
Graham breakfast.
Marquee Johnboy.
All members for attending you made it a truely amazing show.