Okay, stop the laughing. This is my diesel Escort. It's no normal oil burner though, 17" alloys, in car adjustable boost, a sound system to make your ears bleed. What more could you ask from a car?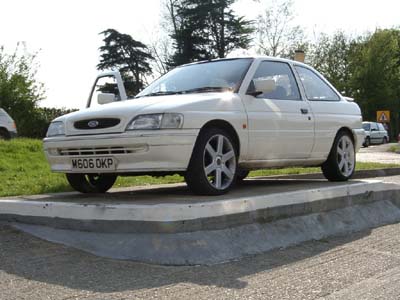 I brought it a few years ago when I was working in East Grinstead. I wanted a turbo diesel Escort, but I also had to have a two door. Ford however didn't make to many two door TD's, so this one was a lucky find. Driving 84 miles every day in a Renault 5 GT Turbo wasn't too cheap on petrol (220 miles to a tank if I didn't boot it), so this car saved me a lot of money. I must admit that when I test drove it, I was shocked at how nippy it was in standard form. But there is a difference between nippy and quick, and believe me you can make a diesel quick.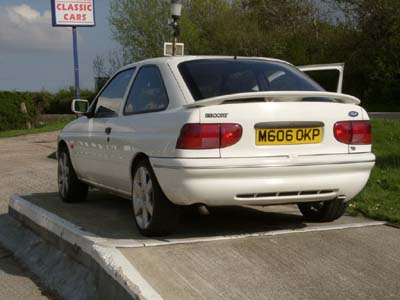 Standard the turbo was pushing out a kittens breath 8 psi. Hardly anything to be proud of. This was sorted out with a nice bleed valve taking the boost up to 15psi at first. Then came a nice electronic switching valve on the injector pump. Basically it means that at a flick of a switch inside the car, I can have the fuel pump work over time, or have it be lazy. That meant I had a car that could go fast, or a car that could drive over 450 miles to a single tank!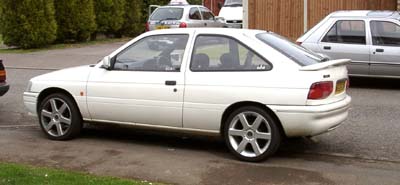 I then needed to sort out the sounds. Out came the nasty standard Ford stereo and in went a nice Pioneer head unit and limited edition 6 disc multi changer. I also stuck some nice 100 watt Pioneer speakers in the back, then two 12" Sumo Subs in the boot, a nice Alpine amp, and a purple neon to light it all up with! The amp needed a lot of power so I upgraded the battery to something you could power your whole street off. It's huge. I also needed to use gauge 4 cable to run the amp. This stuff is so thick that it looks like a tow rope. And it's all connected up with some nice gold terminals.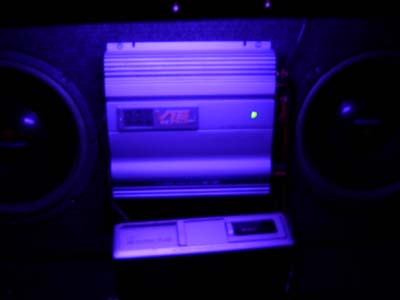 The wheels were next on my list. When I brought the car it came with some nice Wolf Race Genisis alloys. Being only 15's they looked silly in the arches, so I needed something bigger. I'd seen a couple of cars with Wolf Race Voodoo's and I think they looked great. I went to the local Wolf Race factory and they sold me a set of 17's for £25 each! That's £100 for a set of brand spanking new alloys! RM Tyres in Strood then sorted the rubber out for £65 a rim, so I was laughing.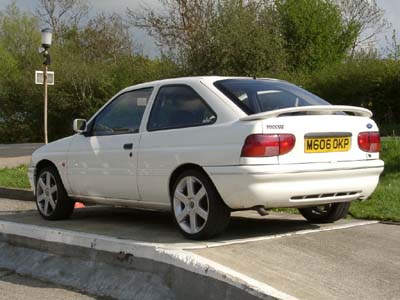 With my car fast, loud and gorgeous I wanted an alarm better than the standard Ford jobbie. I brought the whole kit for a couple of hundred quid and fitted it myself. It took the best part of 8 hours to do, but I am still well impressed with the job I did. I now have interior and exterior motion sensors, a tilt and knock sensor, power drop sensor and a few other toys which were a sod to set up. But it's all installed neatly without a hanging wire in sight.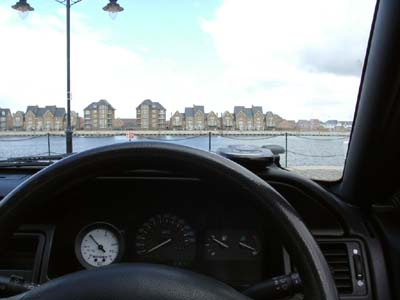 As I'd had the car for a while now, and I sold my Renault 5 GT Turbo. I started to get bored with the performance of my car. I then fitted a nice boost gauge on the dash, got a police speed trap detector, some RS2000 side skirts and some clear repeaters. I'm still yet to do the side skirts and repeaters (busy with other things). I also turned the boost up to 20psi! A diesel running 20psi boost! Cool huh? You should have seen the black smoke it chucked out when you booted it under load. Loads of un-burnt fuel all going to waste. The fuel economy dropped to 380 miles to a tank, and the boost pipes needed bigger clamps to hold them on! Since then the car is just sat lonely on my drive way though. I plan to do some more work to it soon, get it ready for the winter so I can leave my MR2 in the garage. But as ever, if you want to know more about the car, drop me an e-mail.
Tech Spec
Engine:
Ford 1.8 Turbo Diesel engine
Garret T2 turbo

Bleed Valve, adjustable fuel pump regulator
Chassis:
17" Wolf Race Voodoo alloys.
Standard brakes
Exterior:
Colour coded bumpers, mirrors. RS 2000 rear spoiler.

Coming soon: RS2000 Side skirts and front bumper, clear repeaters
Interior:
Neons under dash board, TIMS white boost gauge, police laser and radar detector, electric windows added
ICE and Security:
Pioneer head unit, 6 disc multi changer, Alpine amp, 2x Longmill Sumo subs, Neons in boot.
Ford factory alarm. Other alarm and immobiliser that I forget the name of.