An insurance hungry beast is not really what you want for your first car. But equally you dont want to be driving a Metro for 3 yrs just to collect your no claims bonus. Darryl did it just right......
He bought the car brand new in 1999, a T 'plate, in the form of a 1.1i East Coast Ltd. Edition Citroen Saxo, in Woodland Metallic Green. The only optional extra he went for was the 5 x split spoke alloy wheels. But he wasn't happy with it looking....dare I say it....."standard" and so over the 3 years he's owned it, the following has been added.
Tinted windows (mist front & Limo Back)
Alloy Dimma Cap
Yellow Caliburs (Spelt wrong!!) & drums
Yellow light brows
Green Sun stripe with Saxo Sports logo printed
but let us not forget the all important yellow go faster stripe !!
Of course, as it was bought from new, the Warranty has severely restricted what can be done to the car.
There is a very nice sound system installed (specs are kept quiet!) and beleive it or not, it is powered by the STANDARD 4 x 40W CD head unit. But, I assure you, it is loud!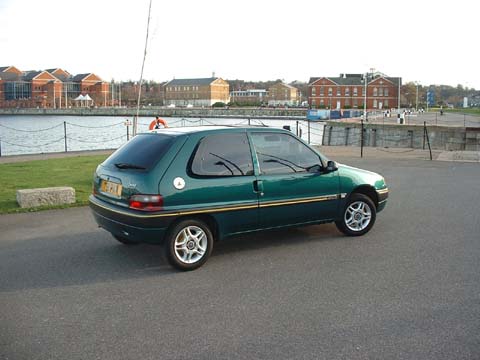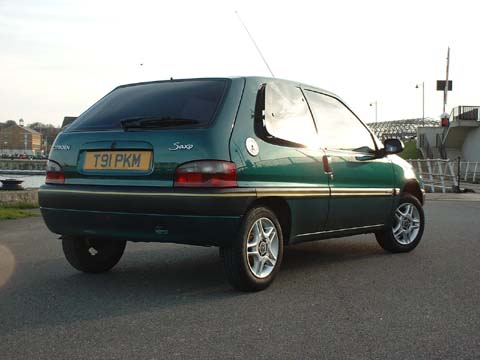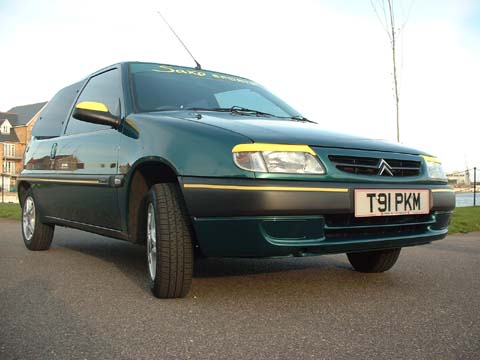 BUT......before we leave you to look at the rest of the site, we have here a special page. It's pictures of one of our biggest fans. Not just of our cars (Tony and Ben's), not just of Darryl's car (in all it's glory above) but also of our site. His name is Niki, and he is Darryl's 8yr old little brother. A true fan of cars, and we can't wait for him to get his first...! Click