| | |
| --- | --- |
| Rover 200, by Gary Hetherington (brother of Tony) | |
In October 2000, having just seen my brother buy a 360bhp cossie, I set about buying my first car. Thoughts of a 205 Gti crossed my mind, but then a friend of a friend said he was selling a 1994 Rover 220 Gsi for £2500. Rover ? That's an old man's car, surely ?? Well, I'll have a look anyway. I loved it – bought it the next day! Worth every penny! As a first car, 0-60 in 8.8seconds was acceptable, but started feeling slow after a couple of weeks.
The car was completely standard when I bought it, so I set about a few basic modifications: Momo gear knob, K&N induction kit, smoked side repeaters, oil pressure gauge. Unfortunately, going out in my brother's Escort Cosworth and Ben's MR2 turbo meant that my car really did feel VERY slow! However, I Was still enjoying obliterating the 214's, 1.1 Saxo's, and Nova 1.2 injections !
The Race that changed my life !!
One evening after I had owned my car for about 3 weeks, I was at the bridge (see numerous pictures on the cruise pages) and came up behind a Rover 214 Sprint. Chuckling to myself, I dropped down a gear and went to overtake him. As I went flying past he decided to drop it down a gear and try to race me. HE COMPLETELY LEFT ME!!!! I was left on the wrong side of the road, thinking "oh dear – I've just been beaten by a 214". Obviously I was not going to take this lying down. I stopped him at the end of the road, and after much swearing he told me it had a 2.0 litre turbo engine in it ! This was the inspiration I needed to tune my car.
To be frank, I'm lazy, and could not be bothered to spend a lot of time and money tuning my existing engine –plus, by this time, I had realised it burnt about a litre of oil a week. I had already changed the big end shells after driving it for a week with no oil! (By the way – anyone want to buy an engine ?) I set about buying a Rover Turbo engine. Not as easy as I first thought. I booked a week off work to fit it, and then spent a whole day phoning round to find one. 17:25 I finally found one. 42000 miles from a P-reg 1996 Coupe. £1000 for everything, including gearbox and all ancillaries. I went to pick it up on the Saturday from Northampton (2 hour drive). I am no mechanic, and so it took me a full week to fit it – however, I did have quite a bit of help from Jason (owner of that very same 214 sprint) who is a mechanic by trade, and Stuart (K-series tuner by trade).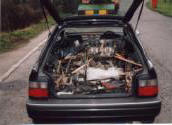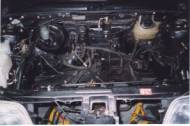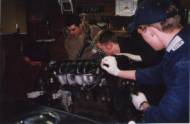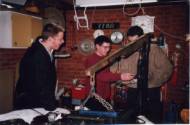 I finished the transplant (after a few minor leakage problems) at 11 O'clock on the Friday night – and obviously had to visit the bridge ! As can be expected, I had a producer one hour later!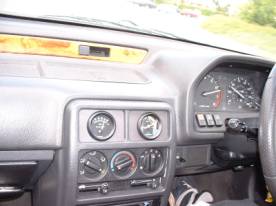 Complete list of modifications to date
Interior
Oil pressure gauge

Boost gauge (both replacing centre air vents)

Momo Competizione alloy gear knob

£800 worth of ICE

Switchable cooling fan
Exterior
Smoked side repeaters

De-badged back end

Meshed grille and bumper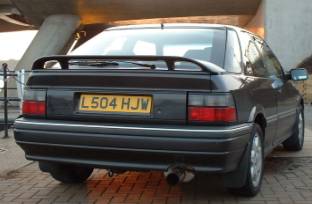 Engine
Rover 2.0 Litre turbo 1996

Moto-Build piston dump valve

Pipercross induction kit

Bleed valve

Running about 11.5 psi

De-cat pipe

Subaru Impreza WRX Sti exhaust (see below)

In total –yet to be confirmed- about 210 bhp !
The Exhaust
On a trip to a breaker's yard looking for an interior switch, I saw an Impreza Turbo that had been rolled. There seemed to be only one salvageable part on it – the back box. The standard exhaust on that model was a 3.5" tail pipe. £40 ? I bought it immediately. Yes, it was INCREDIBLY difficult to fit, and involved a lot of welding from a friend.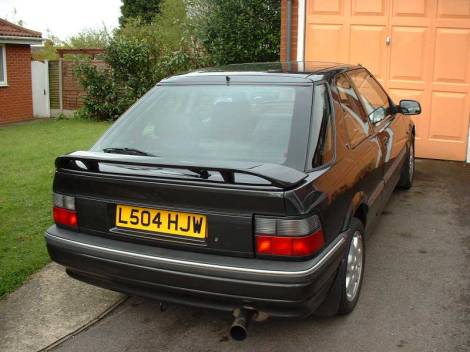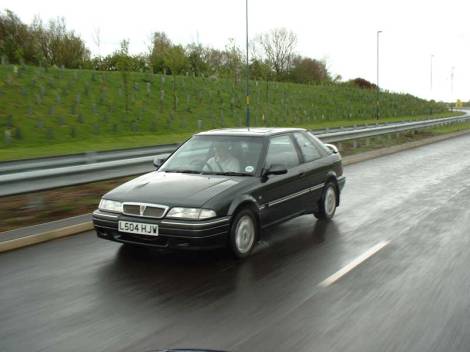 Future modifications intended
Twin head light kit (I have heard a mail order company has started producing such kits for Rovers)
Lowering springs (35 – 40mm)
17" OZ Polaris or Miglia Spider alloy wheels (very long term)
Momo steering wheel and hand brake.
330mm cross drilled discs (one day !)
PS – I am 19, and because of this I have to insure the car through my mum, which costs me £800 a year as opposed to £3300 a year.
Thanks to Jason I now spend every penny I earn (which is not enough anyway) on the car, and every spare minute I have fixing something or other. Genuine thanks do go to Jason for helping me with the engine, as well as Stuart and Dan. Thanks to Graham for the loan of the engine hoist.
It has all been worth it: I have raced and beaten Evo IV's, a 944 Turbo, an old shape Celica GT4, numerous 5 Turbo's, and I even kept up with Ben's MR2 (although that was only when his boost limiter kept cutting out at only 7psi !)
Rovers ? Old man's car ?