I met Geert via the Nomad Racing guest book. He mentioned he had an Escort Cosworth, I e-mailed him, and he we are a week later with some lovely pictures, and a fine car to match.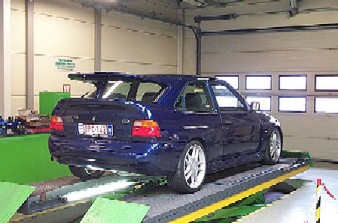 He's 25 years old and lives in Turnhout which is a small town close to the Dutch border in Belgium.

While talking, Geert mentioned to me he is coming over to England in the summer to visit M A Developments for a 330 conversion. Oddly enough, MAD is where I get all my work done, and so we plan to meet up in the summer. If there's any other Cossie owners out there who fancy a trip to South-East England for sometime between 9th – 30th July, for an enjoyable day, please e-mail me.
But back to Geert's car……
He's not had it long. He bought it Saturday 14th April 2001, and tells me without question it's the best car he's ever had !! The car is a Pacifica Blue example from 09/09/92, and so it has the larger T34 Garrett turbo.

Since purchasing it, Geert has added a Group N fuel pump, dark green injectors, stainless steel exhaust. And upped his boost to a healthy 1.6bar (23.2psi), which means 265bhp @ 5.830rpm, with 366Nm (270lbs/f) torque @ 4250rpm (proven recently on a dyno – pics above and below).

Further modifications on the car (not by Geert) are lowerd Bilstein suspension, Azev E 8,5x18" rims with Pirelli P Zero Assymetrico 235/35 ZR 18 tyres, colour coded hockey sticks and front spoiler.

Subtle changes, which really enhance a car like Geert's are a new carbon front splitter (ordered at Graham Goode (UK)), and clear front and side indicators and half smoked rear light clusters. Also a 300km/h white dial kit from Wolf Germany and a special handmade short shift alu stick.
The car is an original Ford Escort RS Cosworth (i.e. not a "lux") and so doesn't have leather seats. But he does have those beautiful Recaro racing seats, which Geert (and I) absolutely love.

Wonderful modifications to a car which is already great !!
I look forward to Geert and I meeting….as mentioned above, sometime in July.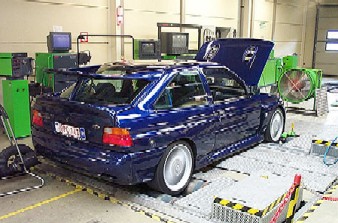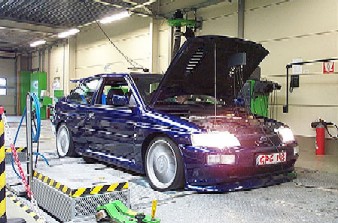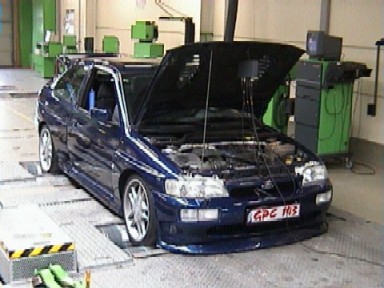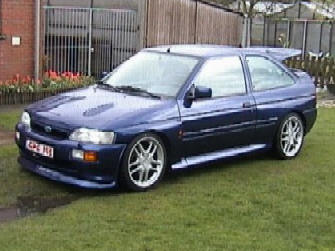 Tech Spec
Engine:
Ford Cosworth 1998cc YBP engine.
T34 Garrett Turbo.
Stainless steel exhaust, Group N fuel pump, green injectors, boost 1.6bar.
Power 265Bhp @ 5830rpm, 270lbs/f torque @ 4250rpm.
0 - 60 5.3 Seconds
Top speed 155Mph
Chassis:
8 1/2 x 18" Azev E wheels, 235/35/ZR18 Pirelli P-Zero's.
Exterior:
Clear indicartors, side repeaters, half smoked rear light clusters. Colour coded hockey sticks, Carbon fibre splitter.
Interior:
Recaro hexagon cloth seats, 300 km/h white dial kit, hand made short shift aluminium gear stick
ICE and Security:
Lots of security. No-one's going to steal Geert's car !