Saxo Development Story


Phase 1


I started saving from jobs I did when I was 14. I bought the car when I turned 17 and learned to drive in it. When I bought it, it was the most standard Saxo 1.1 with 3 stud wheels, no additional extras, no head unit, no central locking, no electric windows etc. It was just your basic run around hatchback.



I took driving lessons in it while I was at college and started reading the car magazines. After seeing all the modified cars I started working as many jobs as I could in my spare time to get the money to pay for the modifications I wanted.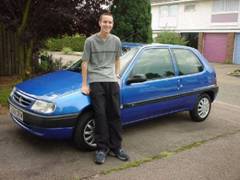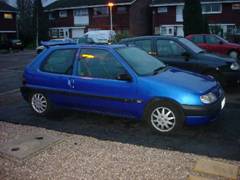 I didn't really know much about modding and I didn't know anything about Saxo's. I joined the Saxo Sports Club to get advice and I ended up buying a small sound system set up from Halfords and some 15" wheels then all the basic mods that a normal lad does. As my car was 3 stud the 15" wheels were pretty much the only choice I had.



I slowly started learning about Saxo's and modifying, however I was still relying on other people to do the work for me. My first body kit was done by a body shop in Nottingham called Alan Perry. Their work was good and I was well happy with my car for over a year. Then I realized it still just wasn't crazy enough to be a feature car.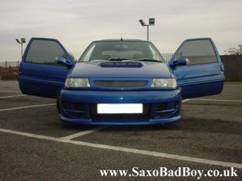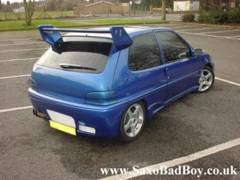 Phase 2


I slowly started to work on the interior and the sound system. I built it up bit by bit. From the little install I used to run I then added a TV, Playstation2, Lanzar and Atomic amps and subs and plenty of Infinity Kappa components. However I wanted to get more involved in the whole bodywork scene. I wanted to know how it was done and learn to do my own work.



After an accident where some one hit my car, somebody recommended a chip up company called "Chip Master" www.chip-master.co.uk. A relatively small business when we first met but Scott who owned it did an amazing repair job and the price was fantastic.



Since I wanted to get more into the scene, I asked if I could spend my spare time helping out with work and learning what goes on with the body kits and see if I could help provide a better service for the Saxo Sports Club which I was now an official of.



Over 2 years of learning how to smooth, blend, and fit body kits "chip master" opened its sister company "Triple XXXtreme" who I work closely with. Triple XXXtreme started moulding body kits for Saxo's so naturally I put mine forward as one of their main demo cars.



I had some 17" rims made for the 3 stud fitment then realized my car also needed more power, after running about in a 1.1 on 17's for so long I decided it was time for a change. A trip down to Pug Performance and 48 hours later I left with a VTR engine under the bonnet and a few little tweaks from a green enclosed filter and 4-2-1 manifold.



Over this time the interior went through many many changes. From the original 1.1 yellow-trimmed interior, I then changed it all to a VTR interior. After having the VTR interior in for some time, I then changed the front seats to rally seats for a bit of a sporty look. Realizing these didn't actually match I took out the back seats and tried to go for a stripped out sporty look and rearranged my sound system accordingly. The entire back of the car was then placed with a complete metal chequer plate floor.



Loving smooth sprayed interiors, I then started working on all the panels, smoothing and spraying them all Silver to get rid of the boring Black plastics.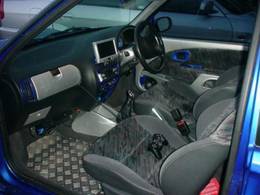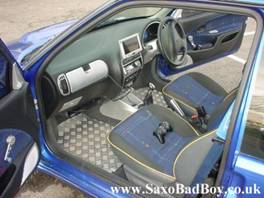 Phase 3


The car was stripped down and we started to build some new kits for the Saxo. By this point they had just finished creating the new Triple XXXtreme wide arches and rear bumper for the Saxo. So my car is the 2nd in the country to run these. Then we realized it wouldn't be that hard to actually turn a Saxo Mk1 front end into a Mk2 front end with the new lights and bonnet.



After creating a brand new bonnet and being the 1st Saxo in the country to run it with the new wide arches I realized it needed a little something special for the front and rear bumpers.



The front bumper was originally made by RJ Automotive for a Nova and bought from "Body Torque UK" in Nottingham. The bumper measurements were way out and needed some serious chopping and extending work to make it fit, but the final result I was more than happy with, a really aggressive front end.



With this new wide arch look and its massive Jap style spoiler I realized it needed a really special paint job to stand out. At this point from the standard Poseidon Blue we changed the colour of the car to Blue/Green Crystal flake from the Rage paint range. This was just finished and ready for Max Power Live 2003 where I show cased the kit and the colour.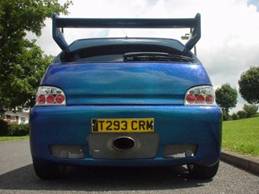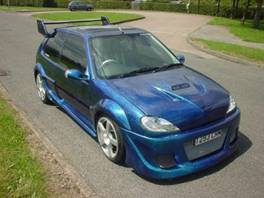 I then thought the exhausts needed a change. The original was a Peco twin upswept with the first kit. I then changed it to a centre exit Magnex pipe and I added 2 *5" Rage exhausts for a really aggressive look.



Wanting to add a bit more fun to the interior I decided to add a load of dials, 7 to be exact. I made some custom A pillars, which are completely smoothed into the original panels and I changed the centre console to run a switchboard to turn everything on and off, which also holds 2 dials.



Phase 4


After an accident on the motorway (not my fault) just 14 days after having all this work done and the crazy paint the car was nearly a write off and we had to trailer it back to Triple XXXtreme.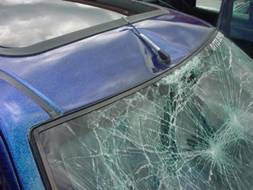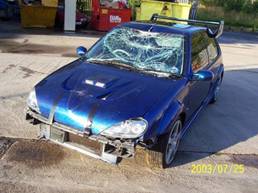 This therefore screamed for a change. So off came the spoiler for a more subtle look and on went some 18" rims and a new TVR Blue/Green pearl flip. This was then show cased at Max Power London 2003.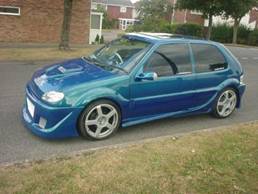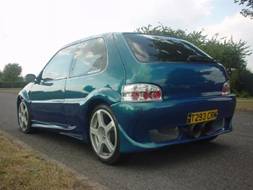 However since the car was originally a 1.1 with 3 stud wheels a full VTS running gear conversion with VTS brakes had to be completed to fit 18" wheels so another trip to Pug Performance. I also wanted the brakes and discs to look amazing so I decided to add some crazy Rotor Discs that look great when on the move.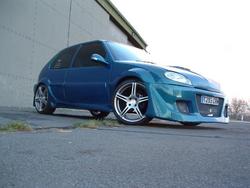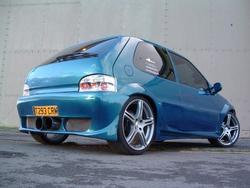 Phase 5


So after the VTS running gear was on, the VTR engine was in, my 18" wheels were on and a crazy new kit I then turned to finishing the interior. For this we took a trip to L4leather. I collected her on the 2nd week of January 2004 when she was with the full leather floor, leather roof, leather seats, custom leather boot build and panels. It's one serious interior.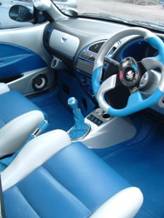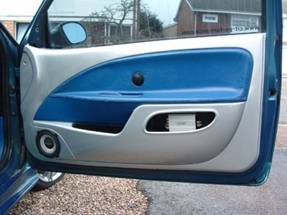 I then turned to making some custom panels for some new ICE. I stripped my car of all its sound system and took a journey to Car Electronics. Thinking about the word "Quality" due to the new exterior and interior, it had to be Genesis and filled the car full of the best Genesis gear I could.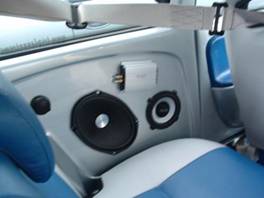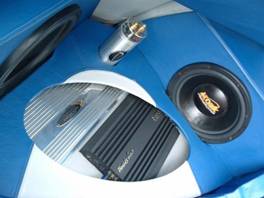 Overall it took 3 years of slowly changing and modifying until she came to a head. The car only cost £6000, which wasn't bad for my first car, however 3 full time jobs later and with my University education I have managed to spend over £27,000 on modifications. Looking back this could have been cut down to about £20,000 if mistakes and some changes hadn't been made. But that is all part of the learning curve. So with an amazing sound system finished, engine transplant, full on exterior, and crazy interior, my Saxo was finished and ready for a feature.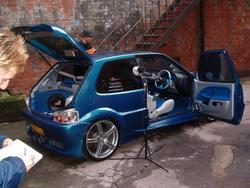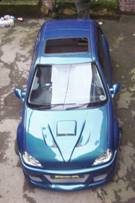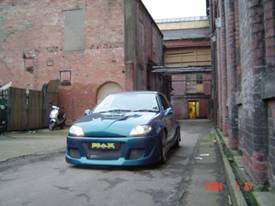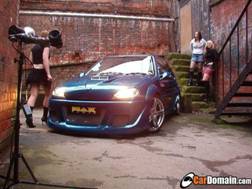 Future Phase 6


The only modifications that I would like to do now are a VTS engine with throttle bodies prepped at Pug Performance ready for Max Power Live 2004, Gull wing doors and a set of chrome wheels for the show season.



Thanks To:



L4leather (www.l4leather.com, 07714130218)



G.S Motorsport (www.GSMotorsport.com, 07968964829)



Triplexxxtreme (www.Triplexxxtreme.co.uk, 01773529926)



Pug Performance (www.pug-performance.com, 01420587377)



Car Electronics (01159240666)



Family and girlfriend