Vauxhall Astra
Feature by Ricky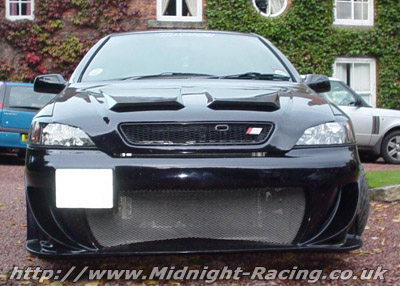 This car is one hell of a car, the first time I saw it out and about I knew it was a one off. As you can see from the pictures everything on the car has been Modded. This car has already had magazine reviews and has been featured in many shows across the UK and I am sure it will have many more in the future. The car belongs to Midnight Racing Member Hazman and comes from the Newcastle upon Tyne area.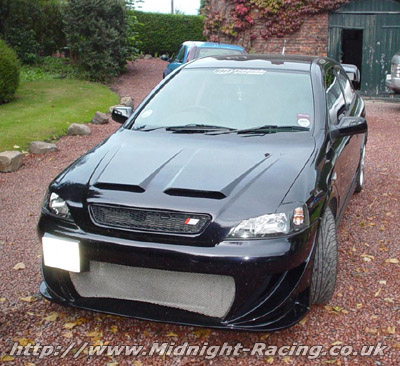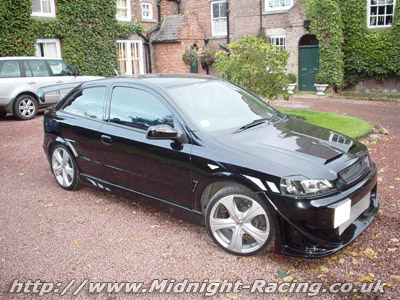 ENGINE: Vauxhall 1600 16 V Ecotech, Cotton Green Air Induction Kit, Powerflow straight through SS system with Twin oval Tailpipes, Colour Coded Rocker Cover.

SUSPENSION: Lowered 45 mm all round on Spax Springs

BRAKES: Std, for now!

WHEELS / TYRES: BK 240's with 215/18/35 Nankang sport Tyres

BODYWORK: Carlton Delta 2 front bumper with ESP Mesh, Reiger race side skirts with custom meshed vents, Reiger Race rear with relocated number plate recess, fully flushed tailgate, Lexus Rear lights, Custom spoiler with APR legs, Custom functional metal dual bonnet vent, Custom rear ¾ panel cut ins, Custom lower wing cut ins, Custom Cut in drivers wing vent, Custom Wing mirrors based on the original ones, custom bad boy bonnet extension, focus LED repeaters, rub strips removed and lead filled, bee sting ariel, Varad LED ground Kit, SXI arches, Limo/dark smoke window tints, re-spray with a pearl black/purple fleck.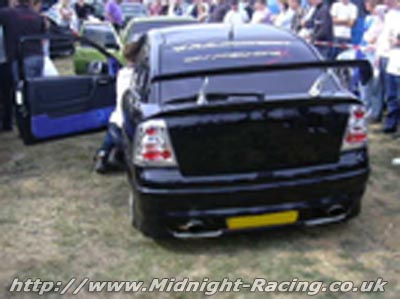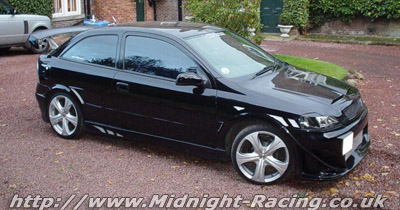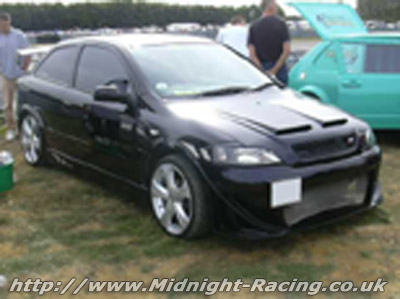 INTERIOR: Corbeau Targa Sport reclining seats, SXI interior pack, colour coded dash.

ICE: JVC KDSH9101 Mp3 player, in dash DVD player, 5.6" screen, Audio Contol Epic 160 in dash bass processor/SPL Meter, Ground Zero Hydrogen 6" components/tweeters/passive X overs, Ground Zero Hydrogen 5.25" Alucone Co-Axils, 2 12" Ground zero H2 Hydrogen Subs, Jackson Inspiration 1200 Amp, 2 Jackson inspiration 1400 Watt Amps, full 0 Gauge wiring kit, Autolead's pro Wiring, Neon Lit 0 Ga fuse holders, full custom fibre glass boot build, fibre glass door builds, Perspex rear door builds, trimmed in electric blue alcanatara, Maxima Blue top deep cycle battery split charged, Varad Interior neon lighting, Sony Ericsson HCB 30/HCE 16 Handsfree, 143.1 Db @ source 03, now IRO 146, looking to get 149+ DB next Season.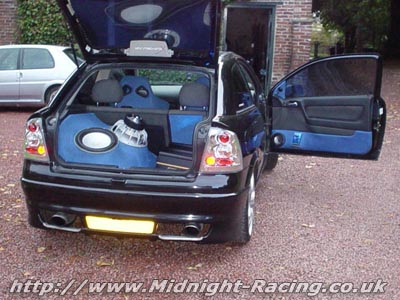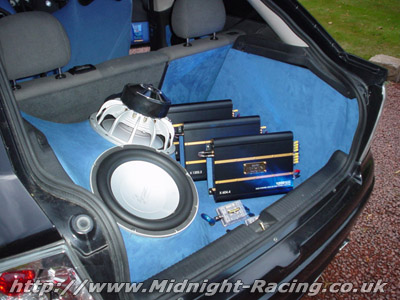 SECURITY: Autowatch concept cat 1 alarm, Autowatch immobiliser, Stock immobiliser with remote boot solenoid and Remote engine start/stop.