You may remember Mike's Nova from Max Power last year (July 2000). It is a glorious example of a car, which many try to modify, be it styling or speed, but only few get right. I believe Mike is one of the later.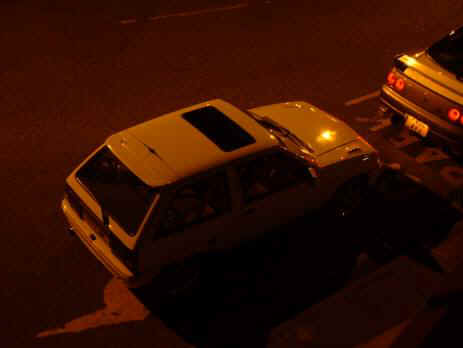 I saw Mike's Nova pull up behind the Skyline (see picture). It says a lot about a car when I walk over to them, and it's the Nova that catches my eye. Now don't get me wrong. I love Skyline GTR's…especially a P-reg R32 Import… but Mike's car has something overwhelmingly aggressive, yet subtle about it. The "lack" of body kit (and in no way do I mean that as an insult) lends to its "wolf in sheep's clothing" look. Hey, I won't lie to you, if I pulled up at the lights next to a Nova – no matter how big the front discs are – I'd remain fairly confident!!
Mike bought the car from a guy called Andy Windsor. As rumours have it, Andy bought the last ever brand new Nova body shell in the country. You are looking at what emanated from that very same shell. Mike paid £5k for the car 2 years ago, but in 2.0L 16v normally aspirated form. 2yrs later, and his spec looks like my ultimate shopping list…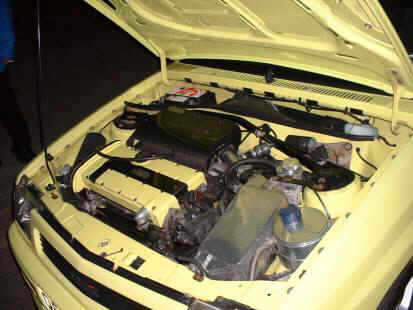 1998cc, 4-cylinder, 16v KKK Turbo
K&N Air Filter (obviously !)
250/260 Superchip
Ported, polished and skimmed head
Chargecooler with modified housing
Multiple water radiators
Uprated water pump
Water injection
Jetex exhaust system
Vauxhall F28 6-speed manual box
Group 'N' Clutch
Full mapped and flowed custom made Powerflow exhaust system
And what does all the above equal? 267bhp running just 9psi (yes JUST NINE PSI). 0-60 @ 5secs, and capable of 160mph + is no mean feat in a 3 door Nova.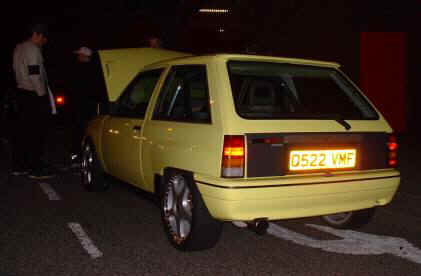 But power, as they say, is nothing without control. 267bhp is a lot to put through only the front 2 wheels (albeit 205/40/17's) of a car that weighs no more than a fag packet. Up steps Spax adjustable shocks with 50mm lowering springs, front and rear strut braces, and one-off roller bearings.
"Brakes!" I hear you cry!! Well, as if you hadn't guessed already, Mike hasn't spared a penny on his brakes either. 340mm drilled discs, and Wilwood six-pot callipers (see picture) ensure that he can stop as well as it goes. Although slight modification to the callipers was needed to fit the wheels over, we are assured it's worth every penny. Not content with huge stoppers at the front, Mike has had 305mm discs + four pot callipers recently fitted to the rear. Eye-bulging stopping capability !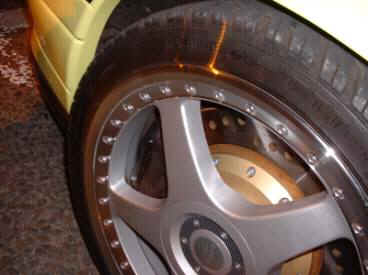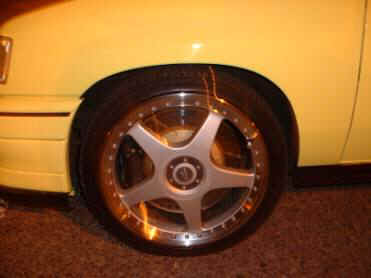 ICE ? Who cares ! He has some, and no doubt (while bearing in mind Mike's usual standards) that it's loud, polished, and custom fit. But I'm sure you don't want to know about that…this car can beat most cossies, 911's are no problem, and would match any scooby at top end. This is an unbelievable car. Not least because of the extent to which every mechanical part has been ripped out, replaced and bettered, but also because of the obvious time and care that goes into it. So, I shall leave you with some fine shots of this finer car – the good bits!