| | |
| --- | --- |
| Nicks Toyota MR2 GT Turbo | |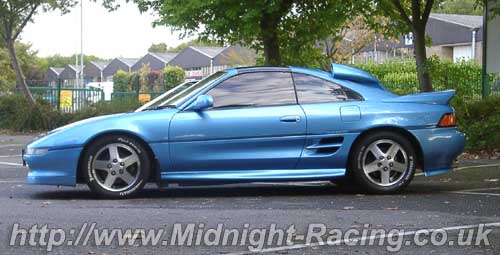 Nicks MR2 GT Turbo has to be the most spotted car on the website. Maybe itís the unusual colour, the custom body mods, the sound of the car when itís running, or just because he gets around a lot, it seemed about time that we featured it.

Nick brought his MR2 four years ago in completely standard form and since then has turned it in to a custom one of MR2 with plenty of home grown modifications. His first mod was the Toms air scoop which sits on the passenger side of the engine bay and extends up to the roof to draw cold air in directly to the air filter. Despite mixed opinions from people you have to admit it makes the car stand out from the crowd and gives it that street racer look. Soon to follow was a set of Ford Escort RS2000 side skirts, with some custom one off rear corner splitters for the rear bumper. Nick made these himself from a new shape Toyota Celica front bumper, so donít expect to find them in the shops. The tinted windows Nick also done himself and as you can see from the pictures, is a job so well done it may as well have been professionally tinted.

The standard wheels have been given the polishing treatment with subtle contrasting graphite painted on the sides of the spokes. To finish off the styling mods the car sits 45mm lower than standard thanks to a set of lower springs over Toyota Bilstien shocks, with some custom number plates made incorporating the Japanese rising sun logo.

With the styling sorted and creating a car that wouldnít look out of place on the Japanese street racing scene, Nicks attention then moved to the engine. Donít be mistaking this MR2 for a sheep in wolves clothing, it has the power to back up that look. Some of the engine mods include

Turbo Technics Hybrid Turbo (using T3 compressor, 360degree thrust bearings, etc)
TRD 1.2mm Steal Racing head gasket
Fuel Cut Defender
Intercooler fan mod
Spearco Water Injection
Aussie Exhaust 3Ē down pipe replacing turbo elbow and cat.
Mongoose Exhaust
GReddy Oil catch tank
Pipercross air filter
Bleed valve Ė boost set to 15psi over boosting to 17psi
Bailey dump valve mounted in standard location
Helix 4 puck Paddle clutch
Magnecor 8.5mm racing HT leads
Blitz Iridium spark plugs
Silicone boost hoses heat wrapped
Power is expected to be in the region of 250rwhp, which works out at nearly 290Bhp at the flywheel.

So the next time you are driving around and see this mean MR2 sitting on your rear bumper, unless you own a car with some serious horse power, I suggest you move out the way!