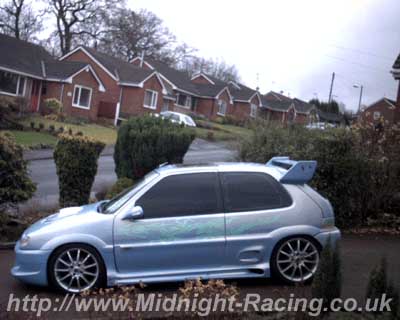 I never really knew what to expect with this car.
I'd been told about every step of the build trying to piece together the outcome….civic bumper, veil side style homemade side skirts (we'll get to that later) homemade rear bumper, bonnet like you've never seen before and a fully colour coded interior with no back seats. Not forgetting the flip paint and rainbow tinted windows
Suffice to say it sounded like a bit of an oddball.
But whether u like it or not u can't disagree that it's individual and original. An it isn't just cheque book modified either apart from the major jobs, namely the re-spray and fitting of the front bumper, and the rest was all done at home in a little 1 car garage.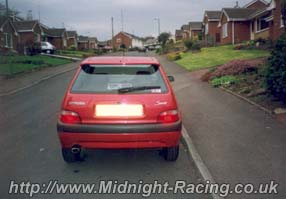 It started out as a lowly 1.4 saxo westcoast in wicked red. Didn't stay that way for long. Might not seem like the ordinary start to modifying a car. But THAT bumper was the first thing to go on.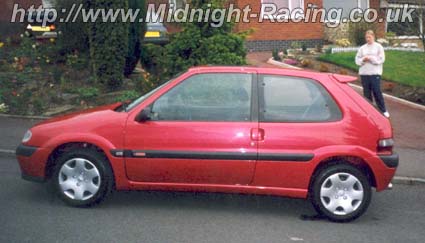 This was a major part of the build he didn't want to attempt himself. He'd seen the bumper in a Jap tuners warehouse and fell in love. Without thinking got it in the boot of his car being the proud owner, not thinking about the consequences of actually getting it fitted. After having it stare back in his face every time he went to bed so decided to get it done once an for all, so a trip down to davlyn's body shop with said bumper squeezed in the back was in order. Within an hour the bumper was mercilessly chopped into 3 pieces ready to start the painstaking work of making it fit the saxo flawlessly.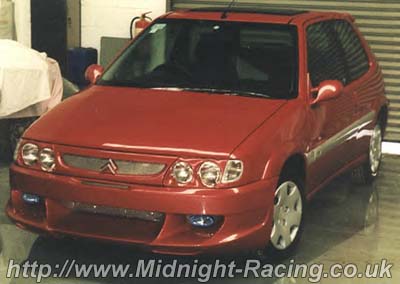 After the bumper the 'usual things were done. Within weeks it was lowered, powerflow exhaust added, rear diffuser, flushed tailgate and one of the first saxos to have been sittin on 17's. Little things gradually got done. Colour coding of the rub strips, spoiler fitted, imported TV wired up to playstation. After spotting the "UK's Top 20 Saxos competition" to go ahead at max power live 2001, an e-mail simply with the words "saxo" and "kaminari front bumper" assured it a place. But after the show, it was time to take the saxo to the next level....a new level. Money had run out now so it was time to learn very quickly how to mould and use fibreglass and every other bodywork tool.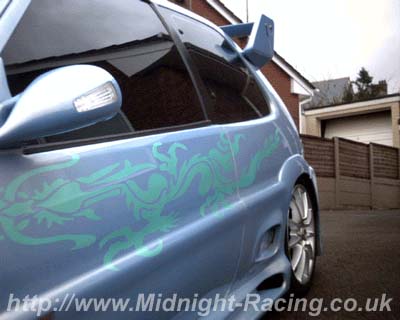 And now to those veilside style skirts I mentioned. If you look at the pics you'll notice they're carcept specials side skirts, and if you're really eagle eyed you'll see Renault 19 bonnet vents blended into the rear quarter panels. But it wasn't always going to be like this. Custom skirts were moulded by his own fair hand but went slightly skew wiff in the end result and was decided too much work when skirts could be bought and have a personal touch added.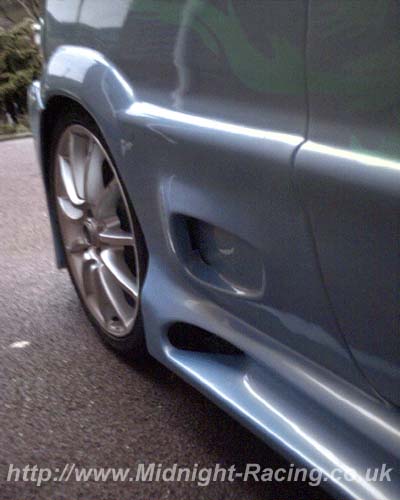 Now we've gone from the front bumper to the skirts and now to the back bumper. Which has been fully made by himself. U wont see another bumper the same as this, not many saxos u can talk about and say that!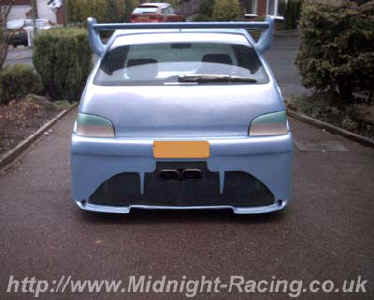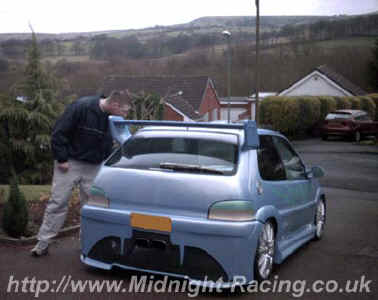 Now, where to go now. Well the windows have been tinted in dark smoke all along the sides and clear rainbow tint has been used for the rear window. It was originally intended for all the windows……but its limited edition, he didn't have enough and they don't even make it anymore. But it really catches your eye as it's driven down the street (not that the car doesn't in general)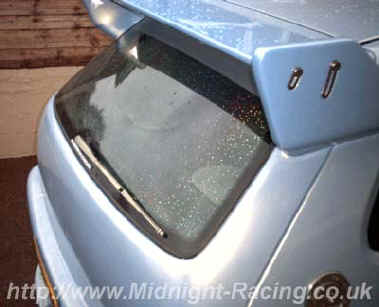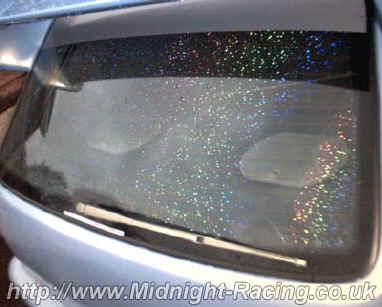 The paint is based on the standard Alfa flip paint, has also had a purple tint added to it for that extra dose of individualism, the dragon graphic down the side was one again designed by the man himself and painted in a green gold flip paint. The pictures really don't do the paint justice as when the sun is beaming down onto it u can really see its been applied with a loving spray gun. And THAT bonnet. Do I really need to talk about it? U either love it or hate it really, but basically how it was done is it was cut out of the standard bonnet between the strengtheners. The metal folded in about an inch and smoothed over. Then been meshed and the engine has had covers over to waterproof alternator etc. engine has also been colour coded.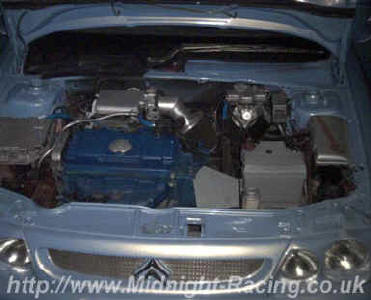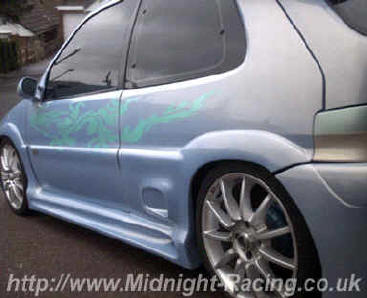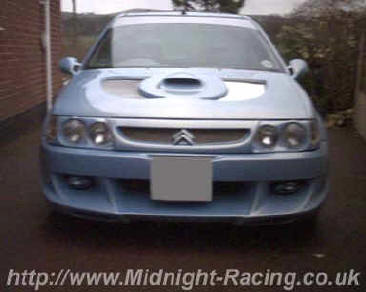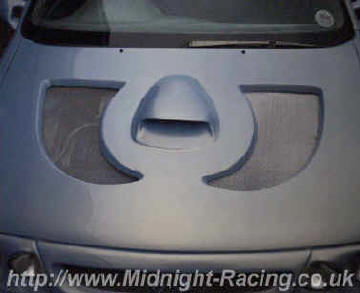 ……as has the interior…..exceedingly so. Anything that could be removed has been then put back after getting a nice layer of paint. The dash is sprayed in the same flip paint as the exterior with green and blue highlights on air vents etc. TV stand in the centre of the dash for those moments u feel u have to play playstation when sitting in your car and the back seats have been removed to make room for a false floor with modest ice in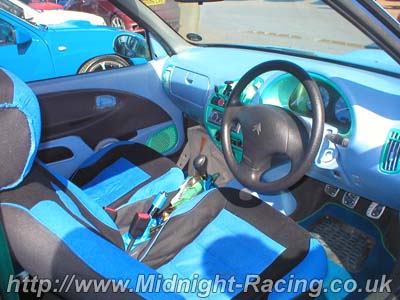 Even though the system only consists of head unit front speakers and a pair of 6x9's it still produces a good sound. And is loud enough that it needs to be.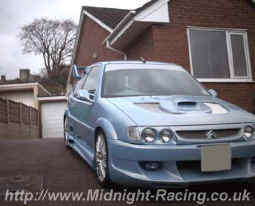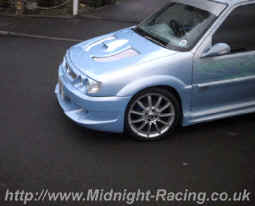 There's not much more I can think of to say about this now. So anymore question talk to BoLoNy on the boards. So just sit back relax and enjoy/hate looking at the pics. Coz at the end of the day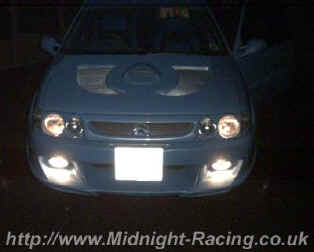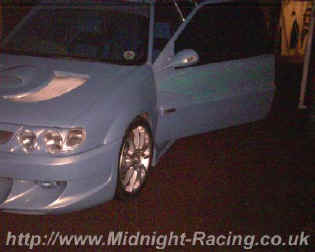 U either love it or hate it…………but u must respect the work that's gone into it
Tech Spec
Engine
1.4i, 4 cyl, 8v engine. Powerflow Custom made twin back-boxed Boxster Exhaust Pipercross Induction kit

Wheels and Tyres

17" TSW Fly wheels with Goodrich Eagle F1 tyres (205/40/17)

Chassis:

Lowered 50mm All Round EBC Green Stuff brake pads

Exterior:

Honda Civic Kaminari F-Type Front bumper
Twin Morrette Headlight conversion
Morrette Grille Carzone Specials Sideskirts Custom made rear wings with R19 Bonnet vents built into wings own design and built one-off rear bumper Smoothed Tailgate Custom Fitted Mitsubishi Evo rear Spoiler Custom designed and Built One-off Bonnet Single Wiper conversion De-locked and De-Handled M3 Mirrors with Merc indicators and buttons built in for doors Full colour change respray in custom flip paint Custom graphics of dragon sprayed on with flip green paint down the sides of the car All bodywork blended together and smoothed Rear Lights painted to match the car Black Window tints on rear quarter windows Rear window tinted in Rainbow effect tint

Interior:

Fully colour coded dashboard Rear seats removed and false floor added

ICE:

Alpine CD head unit JBL 6x9 speakers Psone and TV screen