SKYLINE ????? NAAAAAA ITíS A SKYMERA!!
By Viper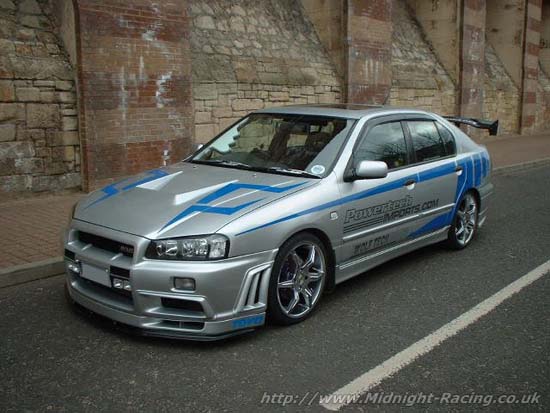 Yet another year has passed, and yet another look achieve thanks to the skills of LS Taylor Coachworks. You could say his pursuit for perfection is relentless but I think this time round, he is 99% spot on !!!!
Quote From Kevin
A lot of people ask Why? Why not just buy a Skyline? Simple answer is this. That would be cheating!
In all honesty, even with the price of the car, and the money I've spent on her, I would still be a long way off from buying an R34 and even then, how much would it cost to modify that? With the aid of a lot of friends, I've managed to do the majority this myself and saved me a packet! We make do with what we have and we set out to do things that has not been done before. I've put a lot of time and effort into my car because that's what modifying is all about. In the world of Modifying, there's a difference between Paying someone to do it, and Doing the work yourself. Modifying is another word for Customising, ie adding that personal touch, being unique. Its more gratifying when you stand back, look at the car and say " WOW, it works! and I did that!"
The Primera started life as a shell but all ready for the modifications that were planned for her.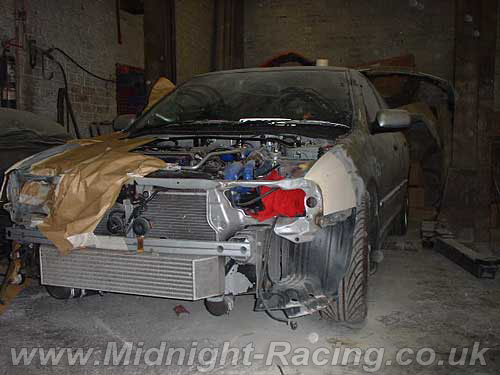 As the car starts to take shape the lights, bumpers, bonnet and essential skyline parts all come together on the Primera body.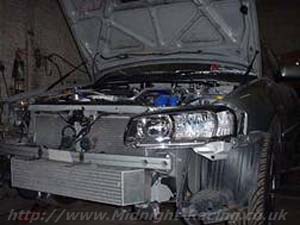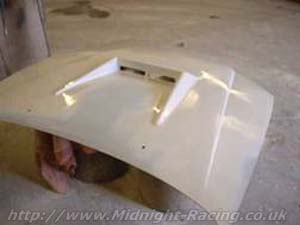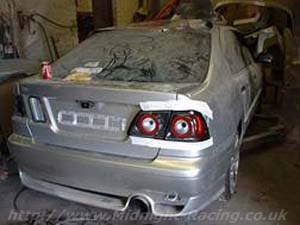 As the car takes shape in to the fierce looking Skymera. Interior needed to be considered. With the new engine going in gauges and fun toys will have to be added.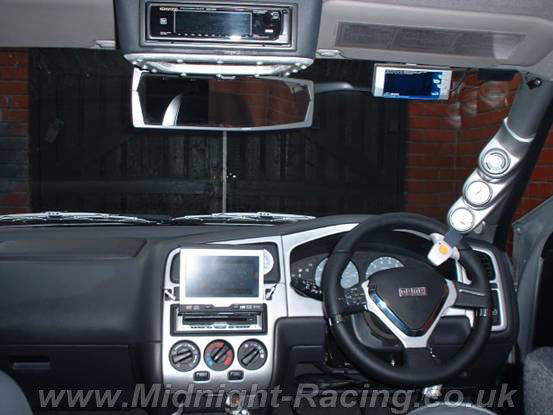 INTERIOR
Triple A pillar pod
Autometer Ultralite Series Air/Fuel Ratio Meter; Volt Meter and Boost Gauge
Greddy Fuel Pressure and Oil Pressure Gauge
Apexi Multichecker Display System
Aquamist DDS2 Display Unit
Momo Air Leather Gear Knob
Momo Millenium Evo Steering Wheel 320mm
Roof mounted Mini Disc Slave Unit
Roof mounted Amps
Rear View Colour CCTV Camera
Silver on Black Dash surrounds
Blue Neon Lighting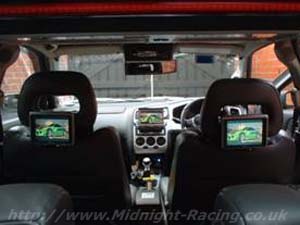 ICE
Kenwood KVT-920DVD Touch Screen TV/DVD Player
Kenwood KMD-400 Mini Disc Slave Unit
Kenwood KFC-HQ162 3way 6.5" 200w front speakers
Kenwood KFC-HQ715 3way 7x10" rear speakers
Infinity Tweeters up front
Kenwood KAC-PS301T 2x200w amp (REDUNDANT)
Kenwood KAC-PS501F 4x150w amp driving front and rears
SAVV LBM-S5000 5" Rear View TV Mirror Monitor
Sony XTL-6100MK2 and XVM-61EX Rear TV Screens
Sounds Alarming 5" Slave Monitor on rear shelf
Clear Acrylic Shelf
Custom Made Boot Install containing
JL Audio 13W7 Sub
JL Audio 1000/1 MonoBlock Class D Amp
Pheonix Gold Bass Cube
1 Farrad Stiffening Cap
Exide Maxima 900DC Battery
Etched Plexi Glass with Blue LED lit JL Audio Logo
Blue Neon Lighting throughout
With even an amp in the roof !!!!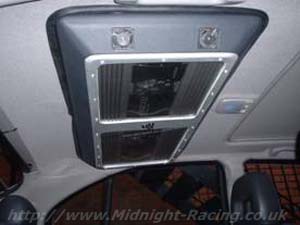 The engine was the next step in completing the massive task. A few mods had to be done to make sure the Skymera was not left behind.
ENGINE
Nissan Primera GT SR20DE 16 Valve
JWT ECU
JWT S3 Roller Camshafts
JWT Cam Gears
GTi-R Pistons
8.5:1 Compression Ratio
Pro-Tech Manifold
Garret T3/T04E .63 A/R Stage III & .60 A/R 50 Trim Turbo
Tial 40mm Wastegate
Custom made 2.5" turbo downpipe
Wizard of Noz Nitrous Wet Kit
MSD 50lbs Injectors
FTF Motorsport Fuel Rail
Custom Forge Motorsport front mounted intercooler
HKS SSQV Blow Off Valve
Aquamist Water Injection System
Apexi AVC-R Boost Controller
Greddy Remote Switching Unit for Scramble Boost
Blitz Sonic Air Filter System
Powerflow Custom Stainless Steel Exhaust
Apexi 5" Dunker Backbox
Relocated Exide Maxima 900DC Battery
Stainless Steel Covers
Polished Valve Cover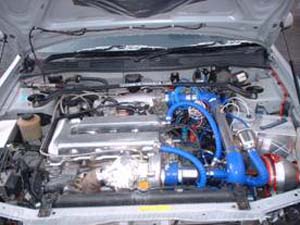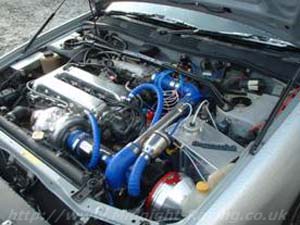 TRANSMISSION & BRAKES
Standard 5 Speed Box
Clutch Net HD PP with Carbon/Kevlar Disc
R32 Skyline 4 Pot Calipers and Drilled Discs (front)
Standard Discs (rear)
Racelogic Traction Control System with Launch Control
SUSPENSION & WHEELS
18" TSW Rib Alloys with 215/35/18 Toyo Tyres
B&G Coilovers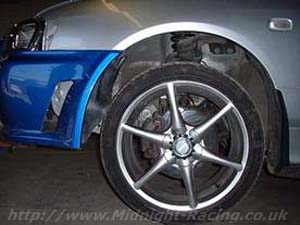 Security
More then you can shake a stick at
Finished Pics of this true One off car !!!!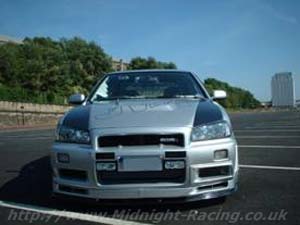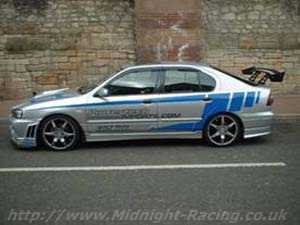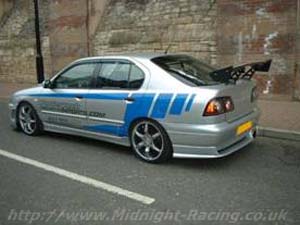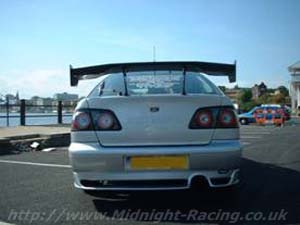 And the Guy that created it all !! Well Done Kevin.